BOARDING - LESSONS - TRAIL LESSONS - TRAINING
At Still Meadows Ranch we provide quality care for your horse. Regular scheduling of deworming, vaccinations and farrier services can be arranged. Boarders have immediate access to all facilities and services that the ranch has to offer.
Excellent horse care and competitive boarding prices. We offer several boarding options:
Indoor Box Stall
Private Pen
Gelding Pasture
Group Pen
Pasture
Note: prices are subject to change, based on the season and feed prices. Contact us for an up-to-date price listing. Large, individual locking tack boxes are also available to rent for your horse tack and supplies.
This stable is governed by the animal keepers act and will adhere to it. See the Government of Alberta, Animal Keepers Act for further information.
CLICK HERE TO VIEW STABLE KEEPERS ACT

Click here to view current board price list
We provide quality instruction in both English and Western riding. Our riding lessons are designed to fit all ages, skill levels and schedules. Join us for a group lesson, or ask for one of our more specialized lessons. (Specialized lessons would include more focused instruction in horsemanship, jumping, reining, or wherever your interests may lie.) Semi-private and private lessons are also available.

We have a variety of lesson horses available to match all riding skill levels. Ride one of our trusted lesson horses or bring your own.
Contact us and we will match your skills and requirements to one of our riding instructors.
Lesson prices:
Group lessons are $45 per lesson (plus GST).
Prices for private/semi-private lessons are $60 per lesson (plus GST).
Contact Shawna Paquette for more information or to book lessons: shawna_paquette@hotmail.com
Cancellation policy: 24 hours notice is required in order to cancel a scheduled lesson. In appreciation of your thought in canceling lessons in good time there will be no fee for that lesson. The lesson fee WILL apply if no notice or limited notice was received except in the case of illness or extenuating circumstances. Fees are waived at the discretion of Still Meadows Ranch.
At Still Meadows Ranch we offer 160 scenic acres with wonderful trails throughout. We offer trail lessons all year round.
Book a trail lesson with a friend, family or group and enjoy an amazing riding experience. At SMR we carefully match rider and horse based on experience and comfort level. We make certain everyone knows the basics by spending a few introductory minutes in the arena acquainting the rider and horse.
We also have available for use, upon request, a campfire and picnic area for after your trail lesson - a perfect end to your perfect ride!
(Please contact us for trail ride lesson pricing.)

**SEE PDF BELOW FOR MORE DETAILS**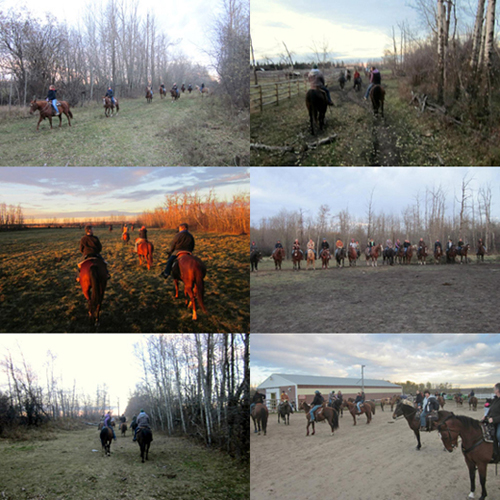 We have trainers on site available to meet your horse training needs - everything from starting your horse to finishing, exercising, problem solving, event specific training or just a tune-up.
CLICK HERE to learn more about our Trainers!